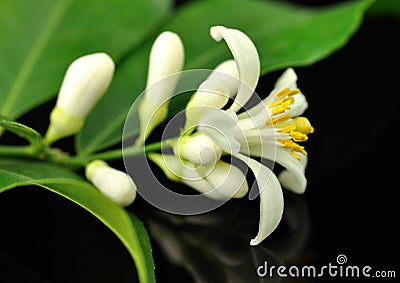 On Lemon Tree Blossoms and Hope —
My lemon tree is safely ensconced on my deck; squirrels and chipmunks scampering around, but not onto, it. I am hopeful.
Yes, I'm hopeful on several fronts – working hard to be.  Hopeful that the critters will allow those six blossoms to have a chance to become actual lemons this year. Last year they left only one – which, of course, I treasured and coddled like it was – well, my first home-grown lemon.
Hopeful that I'll have a season of lemons, and will be able to inhale with wild abandon that subtle, sweet smell that doesn't come from furniture polish.
Hopeful that another spring and summer will bring a sense of serenity and accomplishment as I savor days of writing, reading, and thinking.
Hopeful that our political situation will find some sense of humanity, and caring, and common sense so that we can somehow bridge these wide gulfs that have come upon us.
Hopeful that the world will recognize that we are all one.
Maybe It all hinges on a lemon tree. To allow us to step, to think, to hope beyond ourselves.