Carol Lynley has died. She was 77 years old. She did many things after gracing the covers and pages of Seventeen. She appeared on Broadway; she acted in several scandalous-for-the-time movies; she even posed for Playboy. Her obits seem to identify her career high point as the singer (actually, song-mimer) in The Poseidon Adventure.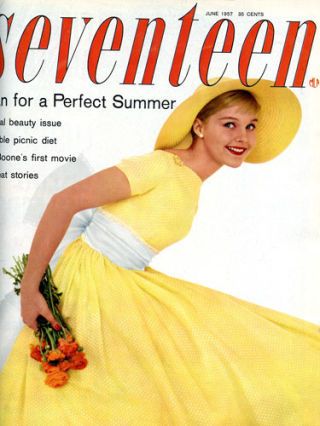 But for me, she will always be Seventeen. How we treasured those magazines, pouring over them to see if we could get those wispy bangs that she had. (We couldn't.)
Those were the years, the times, when our favorite Christmas present was a Princess phone, most likely pink. Like Carol Lynley's nails. We thought that her manicure was much too grown-up and therefore fake. Though we did covet those bangs.
Now for those born after a certain time, they will not believe that girls, real-life girls, went to dances dressed just like this. They did. We wore waist cinchers that rivaled Scarlett O'Hara's, and long gloves that came to our elbows. We looked like Carol Lynley, if only for a night.
And, as Carol did, we left that behind, because life for a teenager in that era did not continue as an idyll.
But, for a minute, as we remember her, we remember, always in tones of sepia of course, a time when our bangs looked just as perky as hers. Godspeed, for all of us.